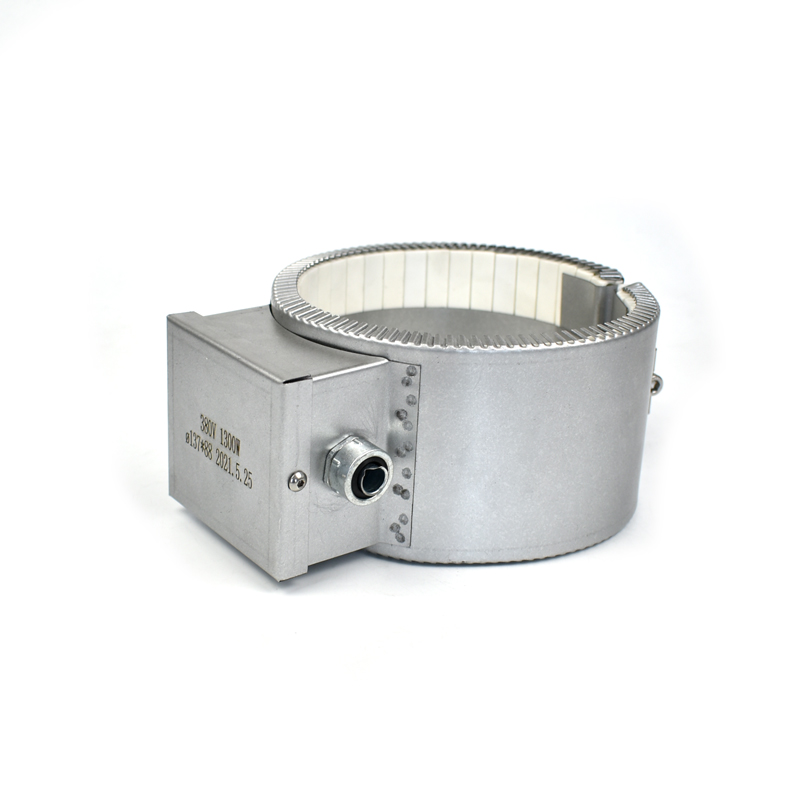 Ceramic band heaters transmit heat through both conduction & radiation. The ceramic core is housed beneath a stainless-steel sheet with serrated edges. This combined assembly of the Ceramic Band Heater offers a flexible heating system that works as an efficient transmission of conduction and radiated heat. The element winding is designed to heat the ceramic blocks to the point at which they radiate energy into the barrel as well as conduct energy by being in contact with the barrel – fit is not as critical as in other types of bands. The heat of the Ceramic Band originates from the inner coils that transfer heat through conduction.
| | |
| --- | --- |
| Options: | |
| Sheath Material | Aluminium coated or Stainless Steel |
| Insulation Material | Ceramic Fiber Blanket |
| Watt Density | Up to 45 W/in2 |
| Watt Ratings | 500 – 5000 W |
| Voltage | 120 V & 240 V, single phase, 2 phase and 3 phase |
| Width | 25mm – 250mm |
| Diameter | 40 mm minimum to expand upto 1200 mm in 3 parts |
Application
Reduce power consumption
Conserve heat
High degree of flexibility
Uniform heat distribution
Various termination styles
Features& Benefits
ADVANTAGE OF CERAMIC BAND HEATER
Lower Operating Cost – Less heat escapes to the air and less wattage is required to maintain barrel temperature, due to superior insulation.
Heat transfer – Conduction and radiation are used as the means to transfer heat, thus they are less prone to thermal expansion problems and a near perfect fit is not required as with other heaters.
Longer Heater Life – because all materials used are rated to operate at very high temperatures.
Higher Operating Temperatures
Flexible – easy to install and remove