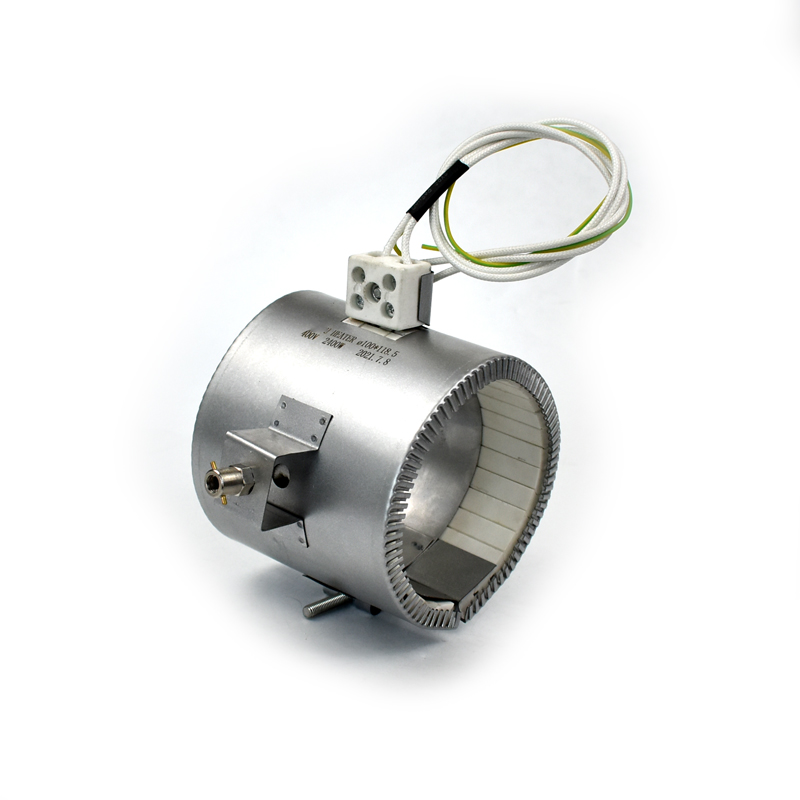 Ceramic Band Heaters are a high performance alternative to traditional mica band heaters. Ceramic band heaters are capable of operating at temperatures up to 1400°F with the ceramic fiber insulation providing excellent thermal efficiency. Ceramic band heaters are typically used for injection molding, extrusion, and blow molding. Ceramic band heaters can open fully for easy installation around the barrel. Ceramic band heaters are available in 2 thicknesses; Standard and Double Insulated for maximum insulation thickness. Ceramic Band Heaters feature a stainless steel outer sheath for superior oxidation resistance.
CONSTRUCTION
Ceramic band heaters are computer designed and manufactured to your specifications. Only the highest quality materials are used for optimal performance.
High temperature oxidation resistant stainless steel sheath.
Ceramic fiber thermal insultaion keeps outer sheath cool and maximizes energy efficiency.
Clamps are attached directly to the outer sheath providing maximum clamping force.
Nickel/Chromium resistance wire evenly would for uniform heat distribution and reliable accuracy.
High impact, high temperature ceramic "knuckles" encase the resistance wire for electrical protection and maximum heat transfer.
SPECIFICATION:
Standard Ceramic Band Heater Specifications
| | |
| --- | --- |
| Maximum Operating Temperature | 1400ºF |
| Maximum Voltage | 480 Volts |
| Maximum Amps | 25 Amps |
| Wattage Tolerance | +5%, -10% |
| Maximum Recommended Watt Density | 45 Watts Per Square Inch |
| Minimum Diameter | 3 inches |
| Width Range | 1"-12" in 1/2" increments |