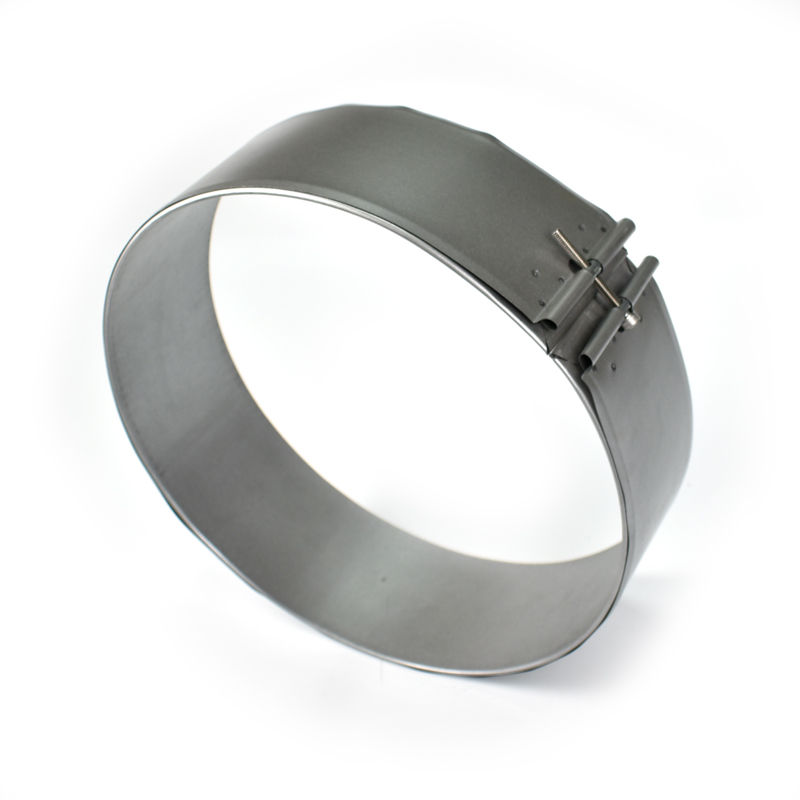 Tanks requiring industrial tank heaters can utilize indirect heating with band heaters or, they can use direct heating that typically uses some form of immersion heating.
Indirect Heating
Band heaters can be found in several types of dimension, wattage, voltages and material. Mica band heaters are an inexpensive industrial heating solution that surrounds pipes and tubes that require external indirect heating. Pipe heating, drum heating, barrel heating normally used for oils, lubricants or any other circular applications. Band heaters use electric heating elements (NiCr wire) to heat-up the external surface of drums or pipes for a gradual heat transfer. Band heating is an indirect form of industrial heating and offers safety when heating volatile and explosive substances as well as pipes or containers that cannot otherwise be heated using direct heating methods. Insulation is also required to help direct the heat to your application rather than experience heat loss, and slow heat-up time.
Band heaters from LAIYUAN HEATER are the ideal solution for high watt densities and high operating temperature applications, especially for the plastics industry. The various types of band heaters available at BRIGT HEATER include mica insulated band heaters and ceramic band heaters.
Direct Heating
For direct heating, our immersion heaters section is suggested as a more efficient means for heating your liquids. Direct heating uses flanged heaters, screw plug heaters, over the side heaters as well as pipe heaters
Specification
Nickel-chrome wire in a outer wall composed of interlocking ceramic tiles
Inside medium-high temperature heaters up to 1200°F
Outside shell temperature: 350° – 450°F
Built-in ceramic fiber insulating mat
Stainless steel jacket
Minimum diameter: 2"
Minimum width: 1"
Thickness with ¼" insulation: 5/8"
Regular gap: 3/8
Maximum watt density: 45 w/in2
Broad range of terminal types and thicknesses of ceramic fiber insulation mats
Applications;
MICA BAND HEATERS
Injection molding
Blow-molding
Plastic extrusion
Container, pipe, or tank heating
Pharmaceutical applications
Applications in the food industry
Features& Benefits
Energy efficient
Energy saver
Highly flexible
Durable
Maintains heat
Provide uniform heat distribution
CSA, CE and UL certified